Businesses are undergoing a 'massive paradigm shift' to green computing, said a Microsoft exec whose new tool offers to help.
Once, businesses were interested in green computing mainly as a matter of corporate responsibility. But now, increasing regulatory pressures and skyrocketing fuel prices are spurring companies to want to take a very hard look at both their carbon footprints and energy costs, according to Jennifer Pollard, a senior product manager at Microsoft.
Earlier this month, Microsoft released the first edition of a tool aimed at taking the heavy lifting out of measuring the environmental impact of business activities and tracking your company's expenditures on oil, gas, and other forms of energy.
Available free of charge to Dynamics AX 2009 customers, the new Environment Sustainability Dashboard sits directly on top of Microsoft's ERP system, displaying information captured elsewhere in the system in easy-to-read reports, Pollard said, in a briefing for Betanews.
Information about a company's expenditures on energy might be funneled from purchase orders (POs) or invoices within the AX 2009 system, she illustrated. With this information readily at hand in graphical views, it grows simpler for businesses to reduce their energy costs and carbon footprints.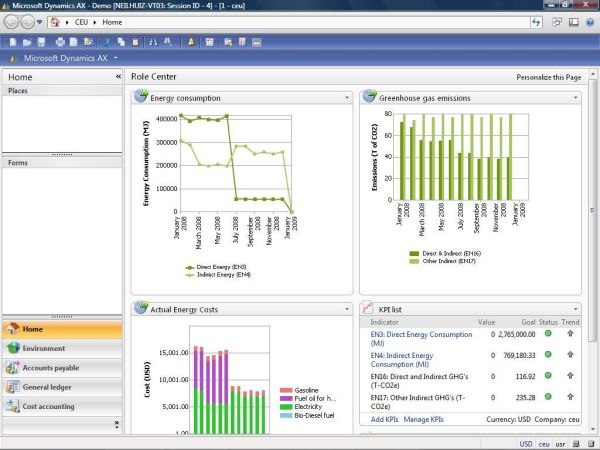 Source: Beta News
Tags: energy consumption, energy management, energy saving, green computing, green technology